Hyperthyroidism, Hypothyroidism and thyroid hair loss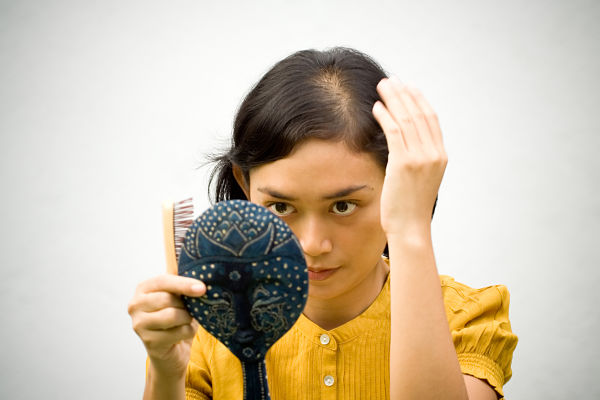 2019-04-94

on

Thu 4

Apr
Did you know that your hair doesn't continually grow?  Rather each hair has periods of growth and periods of rest (the telogen phase) so your hair follicles will each be at a different phase of the growth cycle which in itself is several months long.
The most common cause of general hair loss is called "telogen effluvium" and this normally comes about because of an event like
Physical or emotional trauma
Severe infections
Long term illness
Major surgery
Crash dieting
Anaemia
Hypothyroidism
If you hair is thinning and you have not experienced some form of "trauma" as above it may well be due to a thyroid problem so do go and see your GP.
Hyperthyroidism and hair loss
The most common form of hyperthyroidism is an autoimmune disease called Graves' disease and it's not unusual for people with one autoimmune disease to develop another. This is the likely explanation for hyperthyroid patients developing the autoimmune disease "Alopecia areata" during which there are small, often circular areas of hair loss.  In most cases this does not progress but in severe cases it can cause significant baldness ("Alopecia totalis").
Hypothyroidism and hair loss
Hair loss is caused by hypothyroidism as a consequence of your cells regeneration being slowed down. The most common form of hypothyroidism is an autoimmune disease (called Hashimoto's thyroiditis). This results in a general thinning of the hair across the entire scalp.  
Loss of hair on the outer edge of your eyebrows is a classic sign of the hair loss problem being caused by hypothyroidism - this is known as the "Queen Anne's sign" due to a portrait of her showing this characteristic (although it was never established if she actually was hypothyroid!)
What if you have thyroid hair loss?
Because the hair growth cycle IS months long it is easy to misinterpret the cause of hair loss which may actually appear several months after the initial cause. This can lead to people wrongly blaming their thyroid medication rather than the medical condition. Unfortunately if they then stop the medication the hair loss will become more significant.
It is very rare indeed for anti-thyroid drugs or treatment to cause hair loss.
In most cases, loss of scalp or eyebrow hair is temporary but regrowth can take several months whilst the medication normalises the cycle of regrowth. When it does grow back it is possible that it may be different in both texture and colour.
The loss of hair can obviously be extremely traumatic, but the key is to be patient and not to be taken in by "miracle cures". You can also do several things to help you get through this most challenging time
Talk to friends and family
Join a local alopecia support group
Or find help via an alopecia forum  of the Facebook Group @AlopeciaUK
You might want to consider a wig or a medical tattoo to restore your eyebrows
Do listen to tips from qualified hairdressers
Don't stress your hair - avoid straighteners and use wide tooth combs
Check out product guidelines from the British Association of Dermatologists
Eat a healthy diet and make sure it is rich with calcium and iron.
Please talk to your pharmacist if you are considering taking hair supplements. Some of these may interfere with the absorption of your Levothyroxine medication or contain iodine which can cause thyroid underactivity or over activity.
I hope this has been helpful.
You may also be interested in this blog post about the effects of PCOS on hair 
Although every effort is made to ensure that all health advice on this website is accurate and up to date it is for information purposes and should not replace a visit to your doctor or health care professional.
As the advice is general in nature rather than specific to individuals Dr Vanderpump cannot accept any liability for actions arising from its use nor can he be held responsible for the content of any pages referenced by an external link