How thyroid disease can affect your cholesterol levels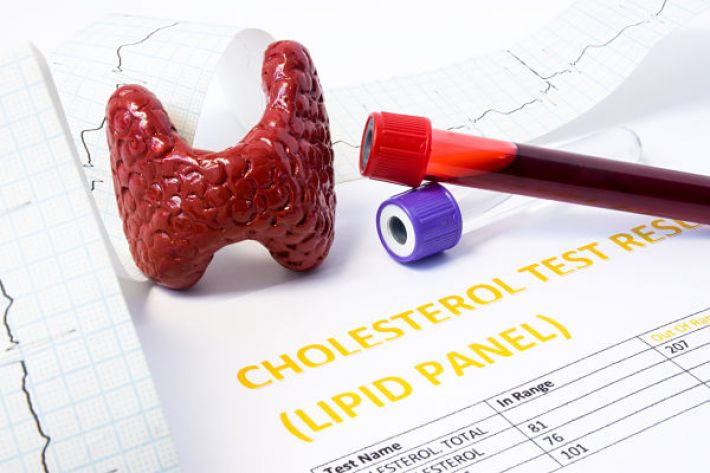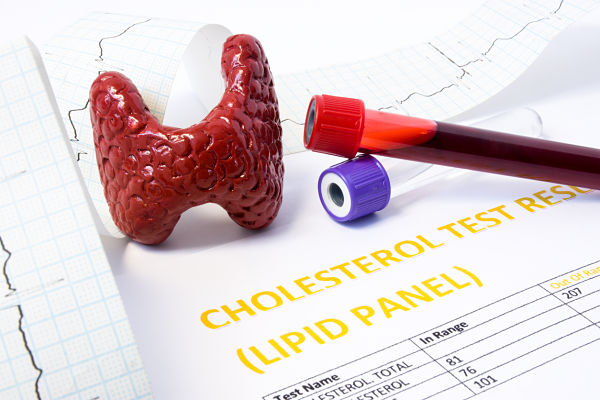 2019-10-276

on

Thu 3

Oct
There is a well-established link between thyroid disease and cholesterol because thyroid hormones control the functionality of lipids and the production of fatty acids in the liver.
This means hypothyroidism can result in high cholesterol and hyperthyroidism can result in low cholesterol. A 2012 study also found that just by having high TSH levels cholesterol levels can raise even if thyroid hormone levels are not low.
What is cholesterol?
Despite its negative reputation, cholesterol does help the body. It is an essential building block for cell walls, it helps the body to produce vitamin D and it plays a part in the production of hormones like testosterone and oestrogen.
However,  this oil based waxy substance comes in several different formats with "bad cholesterol" low density lipids – or LDL – delivering the purest form of cholesterol to your body tissues so that plaque can build up in your arteries  and cause blockages which lead to  heart attacks or strokes.
The links between cholesterol and thyroid disease
Between 1.4% to 13% of patients with high cholesterol also have an underactive thyroid.  So if you are someone with high LDL problems despite an apparently healthy lifestyle you should probably get your thyroid levels checked, particularly if you are a woman.
The side effect of drugs for both conditions
In 2014 a large study looked at those newly diagnosed with an underactive thyroid and high cholesterol and, within a year of treatment, 75% of those treated with Levothyroxine no longer needed medication to lower their cholesterol
It's fortunate that Levothyroxine is mainly effective as it's also suggested that having an underactive thyroid increases the risk of  you suffering from a statin side effect called myopathy. This is an inflammation of your muscles causing pain and damage.  Because of this it is recommended that patients with hypothyroidism are not prescribed statins until the hypothyroidism is treated.
Conversely – according to a nationwide US study of over 8,000 patients in 2014 - the long terms use of statins may reduce the risk of eye disease in people with Graves' disease.
Some cholesterol drugs may negatively affect the absorption of hypothyroidism medication.  This means your TSH levels should be closely monitored if you have an existing underactive thyroid condition and are newly being treated for high cholesterol. It may be that your Levothyroxine dosage needs to be increased.
Helping yourself beyond medication
As I've said the 2014 study indicated that levothyroxine had a positive effect on cholesterol but not in 25% of cases.  A more recent study in 2018 suggested that doses of Levothyroxine which normalised the thyroid function did not always normalise serum LDL and total cholesterol levels.
Patients are always strongly advised to actively seek ways of lowering the risks of high cholesterol and of trying to address the condition. This means:
Getting more active – the current guidelines are 150 minutes per week of aerobic activity and 2 sessions of strength exercises a week.
Stopping smoking
Working to lower your blood pressure and lose weight around your midriff
Reducing your consumption of fried foods,  take-ways, pastries, whole milk dairy products;  lard/ghee/suet/palm oil/coconut oil; fatty meats, sausages, burgers and ham.
Increasing your consumption of what are dubbed "superfoods" in terms of lowering your cholesterol levels – soya, nuts, fruit and vegetables; oily foods like avocado or oily fish; foods rich in unsaturated fats and foods rich with added sterols or stenols (e.g. Benecol)
I do hope this has been helpful.
Although every effort is made to ensure that all health advice on this website is accurate and up to date it is for information purposes and should not replace a visit to your doctor or health care professional.
As the advice is general in nature rather than specific to individuals Dr Vanderpump cannot accept any liability for actions arising from its use nor can he be held responsible for the content of any pages referenced by an external link