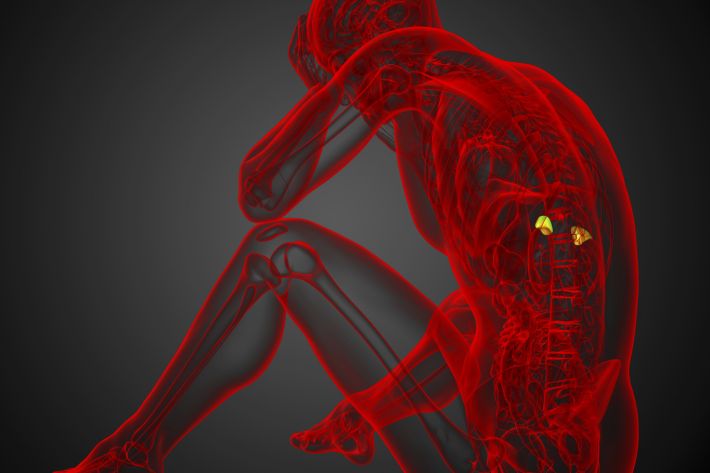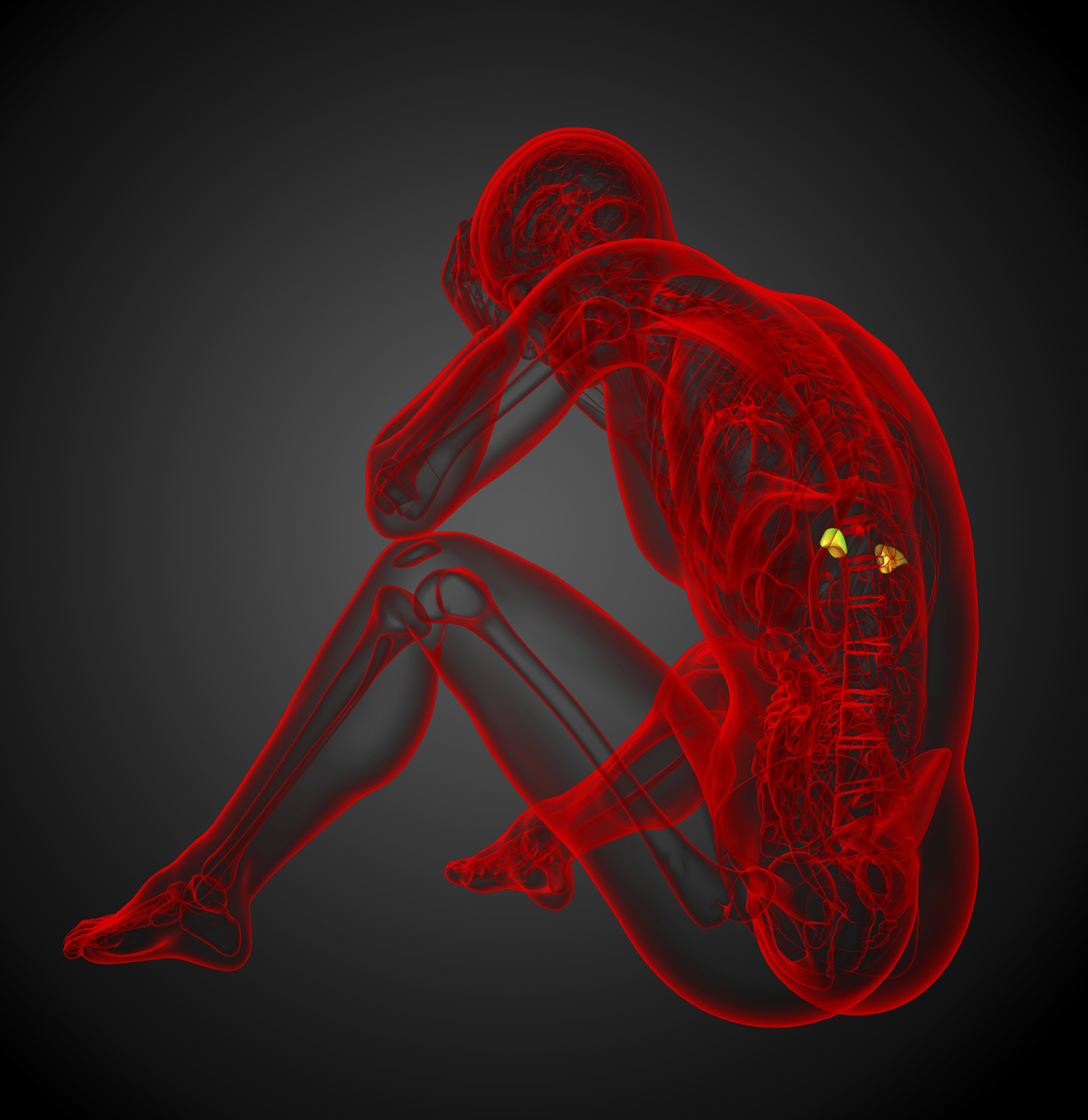 2016-08-237

on

Wed 24

Aug
About the Adrenal Glands
Located at the top of each kidney, the adrenal glands are triangular shaped hormone producing glands which regulate several important functions of the human body.  They secrete the following important hormones:
Glucocorticoids which help regulate blood sugar, blood pressure, fat & protein metabolism and immunity
Mineralocorticoids which help to regulate the kidney and heart function
Catecholamines which help to regulate your "fight or flight" response
Adrenal androgens which are precursors to sex hormones such as testosterone and oestrogen.
There are two main adrenal gland disorders – Addison's disease and Cushing's syndrome unfortunately these can be fatal if left untreated. In this post I explain…
Addison's disease (hypoadrenalism)
The steroid hormone cortisol which is secreted by the adrenal glands is vital for life – it not only regulates blood pressure it also regulates the body's response to infections, stress, physical accidents and surgery.
Diagnosing falling cortisol levels, this condition was named after Dr Thomas Addison after he discovered its existence in 1855 due to TB infiltration of the adrenal gland.  Addison's disease is rare with approximately 8,000 UK patients at any one time, whilst it can occur at any age most people are between 30 and 50 when it develops.
The most common cause of Addison's disease is now autoimmune disorder in developed countries where it may be associated with thyroid disease, type 1 diabetes or pernicious anaemia. In the third world its most common cause remains tuberculosis. This is then called primary adrenal failure.
It can also occur as a side effect of a failing pituitary gland whereby there are low levels of ACTH - the hormone responsible for the production and release of cortisol from the adrenal glands.
Secondary adrenal failure can additionally occur as a consequence of high-dose long-term steroid treatment when normal adrenal gland function is suppressed for example:
In immune disorders such as rheumatoid arthritis
for allergic disorders such as asthma and
to prevent transplant rejection
Signs and Symptoms
Clinical signs and symptoms normally don't appear until at least 90% of the adrenal cortex is destroyed and these can be so slow in onset that the condition is not likely to be diagnosed until an adrenal crisis is brought on by stress caused by illness, trauma or surgery.
The symptoms of those with insufficient cortisol leading up to a crisis are:
Generalised weakness
Low blood pressure when standing
Chronic fatigue
Weight loss (mostly from anorexia, partly from dehydration)
Extreme sensitivity to drugs such as narcotics
Being nauseated and even sick
Craving for salty foods
Cramps and pains in muscles and stomachs
Spasmodic bouts of loose bowel movements or constipation
Irregular or ceased periods
Loss of axillary and pubic hair
Because these non-specific symptoms (in which overwhelming fatigue is the common denominator) could relate to many conditions Addison's disease is difficult to diagnose. One patient survey revealed that 60% had seen two or more clinicians before the disease is actually diagnosed weeks or even months after the first vague symptoms present themselves.
In primary adrenal failure, as the disease develops pigmentation changes may also be seen around:
The creases of the hands
Gums and the inside of the mouth (which starts to look bluish)
Recent scars
Pressure points like elbows
Armpits
Signs of an Adrenal Crisis
The following clinical and laboratory features suggest an adrenal crisis which is life threatening and requiring urgent treatment
Dehydration, abnormally high blood pressure or shock which is out of proportion to the severity of current illness
Nausea and vomiting with a history of weight loss and anorexia
Severe abdominal pain mimicking acute disease or injury to an internal organ
Unexplained lack of glucose in the blood sugars
Unexplained fever
Investigations including abnormally low sodium levels; higher than usual potassium levels, higher than usual calcium levels or higher than usual white blood cells called eosinophils
Other autoimmune endocrine deficiencies such as hypothyroidism or type I diabetes, or family history of organ specific autoimmune endocrine diseases.
Treatment:
For those with Addison's disease treatment is normally through the medication hydrocortisone which, taken in divided doses during the day, replaces the cortisol your body is not making. Usually fludrocortisone is added to treat the associated mineralocorticoid deficiency.
It is essential that patients carry a warning card or MedicAlert bracelet to warn medical staff that steroid treatment is required  in a medical emergency. They also need to be aware of "sick day" rules and know to increase their dose if they feel unwell for any reason – usually ill enough to take to their bed - or at the time of surgery.
For those in an adrenal crisis (which is the second most common cause of death in patients with known Addison's disease and accounts for 15% of patients with this disease) urgent treatment with hydrocortisone injections and intravenous rehydration with fluids are essential. An emergency hydrocortisone injection kit can be prescribed by your GP which is important if you are going abroad.
Helpful Resources
Developed by the Addison's Disease self-help group (www.addisons.org.uk) the following leaflets may be helpful to you
Diagnosing Addison's: a guide for GP's
To read my second post on adrenal disorders which covers Cushing's disease and Cushing's syndrome please click here
Although every effort is made to ensure that all health advice on this website is accurate and up to date it is for information purposes and should not replace a visit to your doctor or health care professional.
As the advice is general in nature rather than specific to individuals Dr Vanderpump cannot accept any liability for actions arising from its use nor can he be held responsible for the content of any pages referenced by an external link.